Another one of those days when I wake up early. Although in this case because of an emergent need to visit the porcelin throne. That gave me an opportunity to do my daily Japanese studies before leaving.
Rural Kasumi
This place was a bit weird in the sense that payment occurs at checkout. Thankfully enough, the amount charged was the expected amount from the reservation. The checkout process took a little while, despite not speaking much English, and I being rather useless at speaking Japanese, they wanted to chat for a good 10 or so minutes. It seems the place is run by a couple and their daughter.
Within walking a few minutes walking distance, there's an ocean beach. It was early in the morning, a lot of mist, and the waves looked a bit rough. I didn't have time for that anyway, but I had to check it out since it was there, and I paid good money to stay in the area.
Figure 1 - The ocean beach that is a few minute walk from the place I stayed.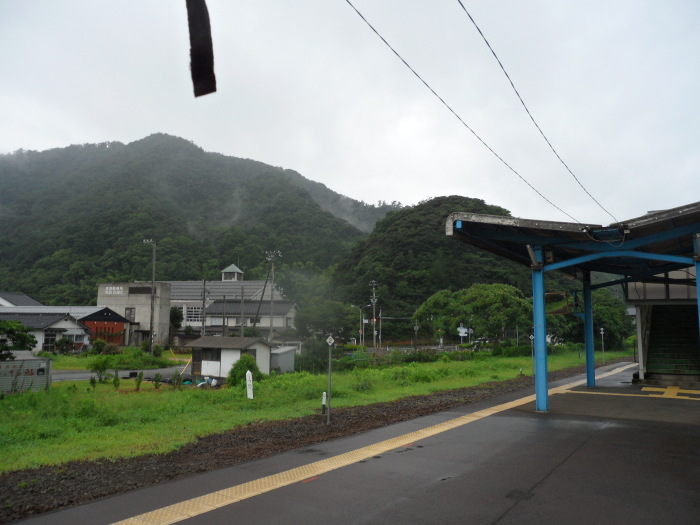 Figure 2 - Part of Satsu town. Kinda wish I was sticking around for longer. I'm sure a day here would be wonderful:
Getting Out
Satsu station does not have any sign boards announcing the train. Fixed track per direction and trains always on time. The did have an announcement through the speakers though. Not a lot of commuters. Mostly school girls(!?) on the train. Seem to be the quiet kind, skirt is below knee height on all of them :p
Despite the mist, the view when passing over the bridge right before Amarube station is nothing but spectacular. And one again, I'm reminded that this probably isn't in a major urban area, an old just just took off his shoes and put his feet up on the seat in front of him...
The rest of the journey, I mostly nodding off, making sure to be awake when we rolled into Tottori. But I had no time to linger, 5 minutes for a change. This time, for the Super Inaba service. I like the name of that train, mostly because it reminds me of my favourite character in Japanese fiction, "Himeko Inaba". (When I reach my destination, it I learn from an old sign board that the regions name in ancient times was "Inaba".)
It was a rather short ride, but I eventually depart at Chizu station. I didn't really have a plan for this stop, other than walking around town. Supposdely, it's a pretty town, and I was starting to sense that before I even got off the train.
A short stroll in Chizu
I feel a mysterious connection to Chizu. It's a relatively small town, a bit bigger than the one I grew up in. It has a beautiful location, situated in a valley with tall mountains on its sides.
I didn't really have any plans, with one exception. And that's where I headed.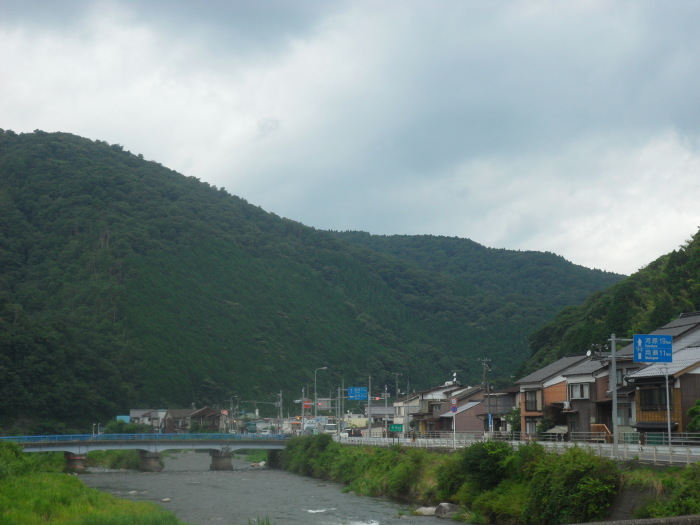 Figure 3 - Chizu Town
Where was I headed? Suwa shrine. You most shrines don't require an entry fee :)
The walk up is quite long, with several landing platforms between the sets of stairs, with the walk up being quite well decorated. After walking up some stairs, I reach a clearing. Around me are some stone monuments and inscritions. From that I walked through the first gate to the shrine to that I exited through it, I did not see another person. The cleaing was, aside from various insect noises, completely silent.
Figure 4 - Panning around the clearing
And once again, I'm not posting any pictures of the shrine itself. This shrine did have the bell-on-rope thing (Haruna Jinja didn't). However, I decided not to bother Kami-sama this time, things were going quite well as it was.
Afterwards, I took a stroll around town. The humidity and heat was starting take its toll on me. At one point, I mistook sweat dropping off my head for rain.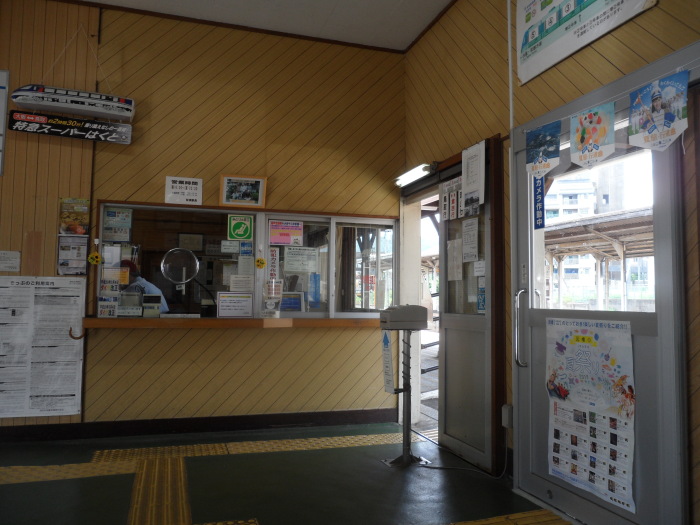 Figure 5 - Chizu station. They had no electronic displays, so the destination for the next train per platform was displayed with plastic cards, one per platform. Seen to the right in the picture.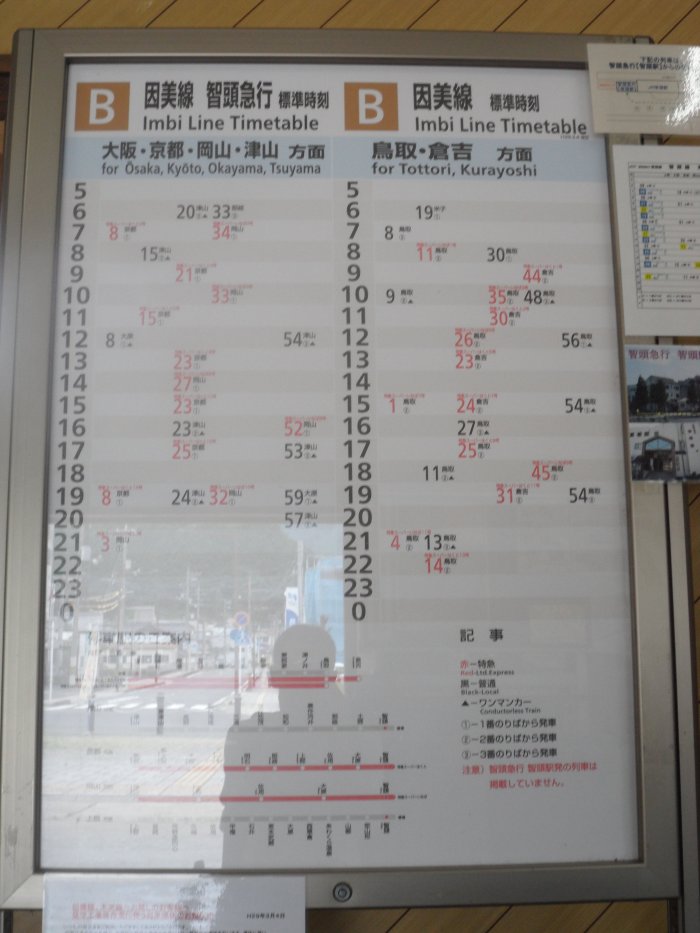 Figure 6 - Chizu station. But what if you want to know when the train departs? This handy time table with track numbers will answer your questions! Try counting the daily numbers of services for 津山, which is where I'm headed next.
Through the Mountains!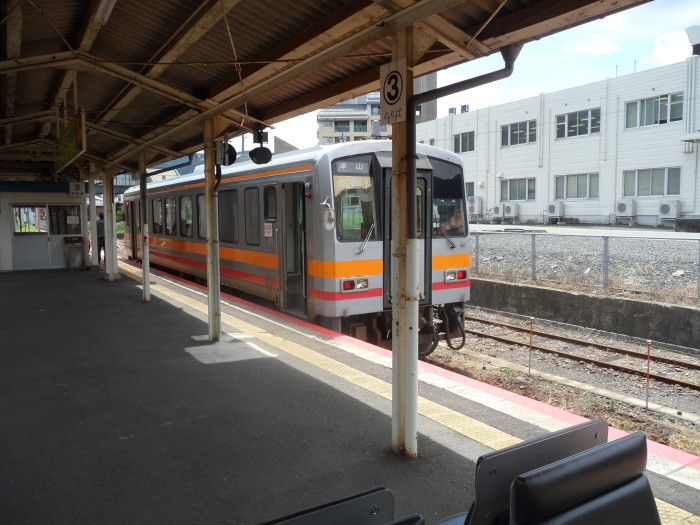 Figure 7 - You know you're not in the big city anymore when the train is a single car.
And then I get aboard the train again. This train line is of special interest to me. It is a 40 km long line with less than 300 passengers a day. Also interesting is that this train, a single car, is almost filled to seating capacity as the time for departure approaches, quite a few have luggage with them.
The trip through the mountains start with the train wobbling left and right to a worrying degree before leaving the station. There's a wonderful view of small towns outgrowing their valley, with houses along the hillsides. An old man on the train is taking pictures with a film camera. This railway line, the Imbi line between Chizu and Tsuyama, specifically the segment Chizu to Mimasaka-Kamo, is the most scenic railway I've been on. Even more surprising, is that it was one of the smoothest rides I've had outside of a shinkansen train.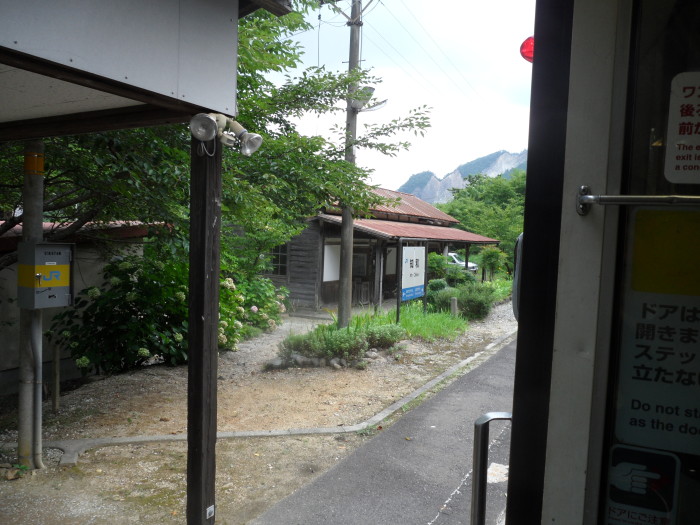 Figure 8 - Chiwa station. Some promotional material for the Non Non Biyori anime used this station as the environment
I was originally intending to get off at Chiwa and walk to Mimasaka-Kamo, visit a shrine there, and then take the next train to Tsuyama. I had second thoght about how safe it would be to walk that road, it was kindof looking like it might rain, and the humidity here was a problem in Chizu already. In the span of an hour, I probably sweated out a liter.
The journey from Tsuyama to Okayama went by in a flash, I slept through the vast majority of that trip, but the parts where I did wake up momentarily, I remeber seeing montains. Lots and lots of mountains. I almost missed to get off the train at the terminus, at which point hilarity would ensue, as it was bound to go back to Tsuyama.
So, I'm in Okayama. Now what?
I awkwardly bumble my way out of the station and is immediately stung by the heat and humidity. No matter how rural a train line is, it seems all trains are air conditioned. When I eventually find the capsule hotel I'm staying at, I realize I probably did a bad choice. There seems to be a lot of rules that are easy to break, so after check-in, I basically escaped out again, found a park, and continued writing this post. I passed a ramen place on the way. I want to try ramen, but I'm still scared to venture into the unknown. I wonder how much by the end of the trip I'll contribute to the bad reputation foreigners have of breaking all the rules. I don't think this kind of solo trip is for me. I need other people and mild peer pressure to get trivial things done. Tomorrow, I'll stay at a proper hostel, and have some more direct plans. Same goes for almost every day past this one, so I hope the worst is over if I survive the night. Proper hostels should mean more opportunities to tag along with others when I'm at a loss myself of what to do, which is basically all situations that I didn't plan in detail for. I really liked what happened in Tokyo, and I got mostly touristy areas left on my trip, hopefully they will be a bit easier to deal with for someone like me, both for staying and the city overall.
I'm still kind of surprised at how little English helps here. I would say almost 90% of the communicaton I've done is saying things in broken Japanese and getting an answer in either a few English words or simplified Japanese. When it's the latter, I usually don't understand what they are saying. This trip so far has been a bit of an eye-opener on how difficult it is to step into a different culture where you can neither read nor talk. Considering how difficult mundane things are for me back home, I don't think I would ever want to move abroad.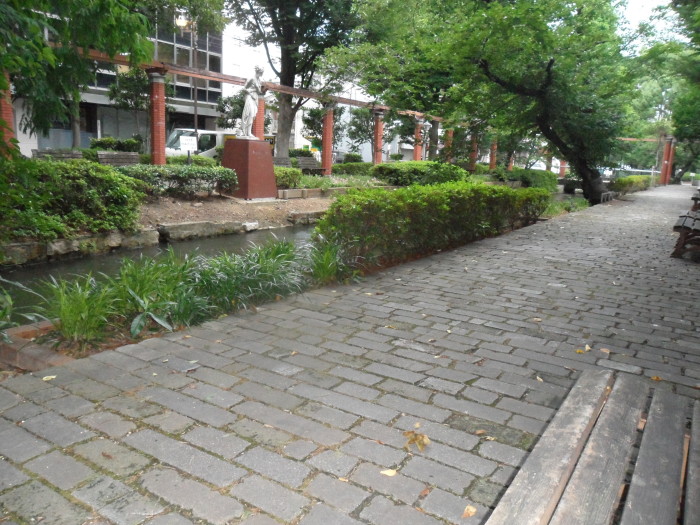 Figure 9 - The tiny park I escaped to
I ended up going to a place in the same shopping arcade as the capsule hotel I'm staying in. It looks like a rather shoddy place not meant to be a restaurant. I'm the only person in there. After I ordered, I heard something suspiciously simlar to a microwave oven. Obviously the place had no English menu, but there was a menu outside with things on it that I could pronounce, and I sort of understood what it was. Moot point, shop keeper had plastered the walls with the same menu expecting me to point towards things. When leaving, I noticed there was a distinct absence of any people in the shops, so I guess 6pm on a wednesday is a quiet time.
Getting back to the place I'm staying, I now had to face the daunting rules. I the locker area, I come across a young looking native. Luckily, he speaks a bit of English, and is able to further explain the rules and how to do things. I was a real life saver, I guess you aren't completely screwed just speaking English. I sit down in the relax room and start working on my blog posts (I'm quite a bit behind on publishing these) when I spot a white guy. We end up talking a bit about travel and stuff. Turns out he just arrived, although he lives in China.
Oh well, time to sleep. I head up to my capsule, plug everything into charge and fell asleep. The capsule isn't as claustrophobic as one might imaine. It's high enough that I could sit up without bumping my head, and I only tapped the left wall with elbow a dozen times.
---
Comments belong to their respective owners. By posting a comment, you agree and give the right for slaeshjag.org to publish or reject it. Your e-mail address will not be published or disclosed to a 3rd party, and is only used for return correspondance or verifying requests to delete comments.
You need JavaScript enabled to post a comment